Artwork
🌟🎨 Introducing a once-in-a-lifetime opportunity 🎨🌟 Did you miss out on the 2022 Great Black August Month Art Sale Event? Worry not! We're here to help you unlock an exclusive chance to bring this incredible event back to life while also offering you the opportunity to purchase or own wall art prints and other print products of the artist himself in the meantime! Imagine owning a piece of art created by the legendary prison artist, Donald "C-Note" Hooker. His inspiring and thought-provoking masterpieces are not just beautiful to look at, but also serve as a powerful testament to the resilience and creative spirit of the human soul. 💥 Start your collection now 💥 While we work together to convince Donald "C-Note" Hooker to hold another phenomenal art sale event, you can still enjoy his exceptional creations. Bring his art into your life by purchasing wall art prints and other print products that showcase his unique talent. 📝 Here's how YOU can make a difference 📝 We need your help to convince Donald "C-Note" Hooker to hold another art sale event. By writing to him, you can show your appreciation for his work and express your desire to own one of his remarkable creations. 💌 Send your letter to the following address: 💌 Donald "C-Note" Hooker CDCR# K94063 P.O. BOX 4490 Lancaster, CA 93539 🌍 Be part of a growing community 🌍 Join the growing number of art enthusiasts, collectors, and supporters who believe in the transformative power of art. With your help, we can make the next Great Black August Month Art Sale Event an even bigger success, shining a light on the incredible talent of Donald "C-Note" Hooker. So don't wait! Grab your pen, paper, and stamps and make your voice heard. Together, we can turn our collective passion for art into a movement that celebrates and uplifts the work of this extraordinary artist. Don't miss this unique chance – let's make the next Great Black August Month Art Sale Event a reality while enjoying his captivating artwork through prints and other products! 🎉
ABOUT BLACK AUGUST & BLACK AUGUST - LOS ANGELES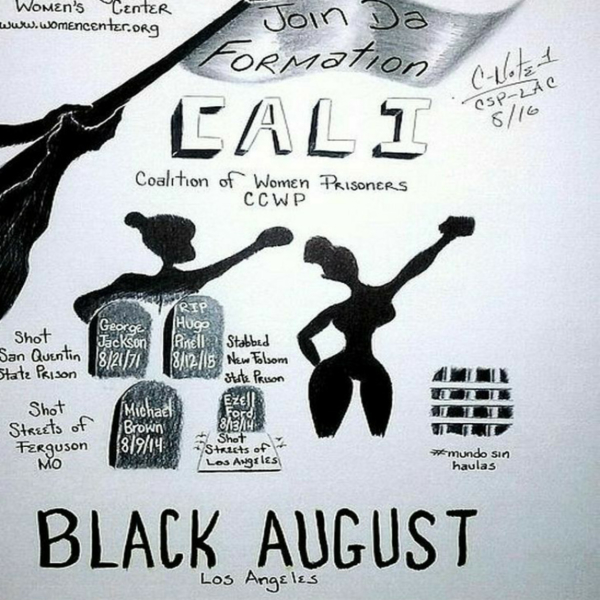 Have you heard of the month long Holiday in August called Black August?

Started in the 1970s by Black prisoners in San Quentin as a remembrance due to the state sanctioned killing of prisoners for demanding Humane treatment. It has long since been internationally recognized, Black August (commemoration) | Wikipedia

FUN FACTS:

In late August of 2022, the 52-year-old African American publication Black Enterprise pronounced:

"Black August is becoming recognized as the alternative to Black History Month thanks to a growing movement aimed at honoring the revolutionary thought leaders and freedom fighters of the past and present."

Black August Uplifted as Alternative Black History Month to Celebrate Freedom Fighters | Black Enterprise

In 2017, Black August - Los Angeles was personally handed over to the Roman Catholic Archdiocese of Los Angeles as a gift to Sister Mary Hodges founder of the Partnership of Reentry Program (PREP) for a joint art show with Homeboy Industries, founded by Father Gregory Boyle. PREP and Homeboy Industries are restorative justice ministries of the Archdiocese of Los angeles.

Black August - Los Angeles is listed in Wikimedia Commons's extensive Library as one of only 12 artworks in it's Black Cultural Archives.